Research Weeks
Ancestor Seekers organizes and runs the most popular genealogy research trip to Salt Lake City, with over 60 held since 2005 - THE DREAM GENEALOGY VACATION!
A week at the Family History Library in Salt Lake City
Help provided exclusively for our guests by Ancestor Seekers professionals
Hotel accommodations included in the price
Optional Evening Activities
A Vast Collection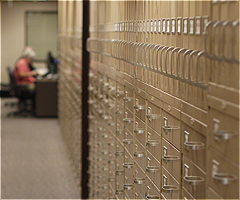 You will spend a week at the Family History Library, the largest library of its kind in the world.
A vast collection of genealogical records from all over the world on five floors (142,000 square feet)
Over 2.4 million rolls of microfilm
727,000 microfiche
356,000 books
Internet access ( including free access to a number of subscription sites) available on over 450 computers
Help from Professionals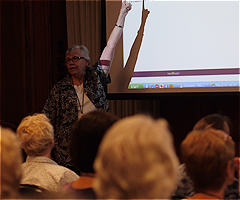 Why do so many of our Research Week guests keep returning? One reason is the quality of the research help they receive from Ancestor Seekers. The Family History Library contains a staggering collection of genealogical records from all over the world which can be overwhelming and intimidating. Ancestor Seekers Research Weeks provide our guests with a more productive and enjoyable experience.
Help is provided at regular intervals exclusively for our guests by our own professionals.Our team of experts will help you find the records you need, thus maximizing your chances of breaking down those brick walls. (This is in addition to the help available from Library staff and volunteers)
One Professional Researcher for Every Six Guests
With ONE PROFESSIONAL FOR EVERY SIX GUESTS, we believe this is the highest ratio of professionals to guests of any group coming to the Library. These researchers not only have great expertise and knowledge, they are just as excited as you are when an ancestor is found!
Our researchers will be available every day to provide specialized help as you search records from the United States, Canada, England, Scotland, Wales, Ireland and Germany.
There is a large collection of records available from many other parts of the world which the friendly and helpful Library staff will be pleased to help you with.
Optional Evening Group Activities
A number of optional evening activities are provided which are included in the package with nothing extra to pay.
COME and MEET US
Monday, 29 July 2019 4:00pm - 4:30pm
We invite everyone to come and meet us between 4:00pm and 4:30pm on Monday, 29 July 2019 in the Salt Lake Room at the Plaza Hotel. We will have you sign in and collect your Welcome Packs.
OPENING BANQUET (Buffet) and EVENT INTRODUCTION
Monday, 29 July 2019 5:00pm - 7:00pm
Our event commences on Monday, 29 July 2019 at 05:00pm with a "Welcome" in the Salt Lake Room at the Plaza Hotel.
We will then walk a couple of blocks to the Joseph Smith Memorial Building (formerly the historic Hotel Utah) for our Opening Banquet (buffet) and Event Introduction commencing at approximately 05:00pm.
This activity allows us to get to know one another in a relaxed atmosphere, to provide further information on the week's activities and answer any questions you may have.
The buffet will consist of the following:
Mixed Green Salad with condiments and dressing
Pasta Salad
Fruit Salad
Large Idaho Baked Potato with all the accompaniments
New York Cheesecake with Raspberry or Strawberry Sauce
Chocolate Cake with Chocolate Sauce
White Grape Juice
TABERNACLE CHOIR REHEARSAL
Thursday, 1 August 2019 7:00pm
We will have the opportunity to attend the weekly rehearsal of the Tabernacle Choir at Temple Square. This is a rehearsal, not a concert, and visitors may come and go as they wish.
PLEASE NOTE THAT DUE TO TOURS OR RECORDING SESSIONS THESE REHEARSALS ARE SOMETIMES NOT HELD OR ARE NOT OPEN TO THE PUBLIC.
TOUR OF THE CONFERENCE CENTER
Tuesday, 30 July 2019 7:00pm
We will take a tour of the amazing Conference Center, a magnificent building hosting many major events each year, including the semi-annual General Conference of the Church of Jesus Christ of Latter-day Saints. The building, home to the Tabernacle Choir at Temple Square in the summer months and December, includes the largest auditorium of its kind in the world.
TEMPLE SQUARE GARDEN TOUR
Wednesday, 31 July 2019 7:00pm - 8:00pm
These gardens include 250 flower beds, more than 165,000 bedding plants, and over 700 varieties of plants from all over the world.
The Salt Lake Plaza Hotel at Temple Square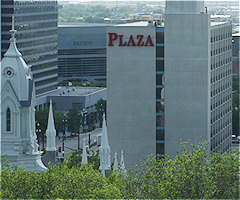 We have chosen the Plaza Hotel for accommodations for all of our events. Located next door to the Library, the hotel is the ideal location for those coming to Salt Lake City to do genealogy.
Hotel Accomodations Included in the Price
The package includes six nights (Monday night through Saturday night, checking out Sunday morning) at the Plaza Hotel. Ancestor Seekers will make the arrangements for you.
Additional Nights
Spend additional nights at the hotel before or after the event at our SPECIAL GROUP RATE. Details will be provided in our Welcome email to you after you have registered.
Your Room
Each room includes a refrigerator, microwave and free wireless hi-speed internet. A full service restaurant is attached to the hotel with room service available.
Free Hotel/Airport Shuttle
A free shuttle service is provided between the airport and the hotel.
Registration Options Explained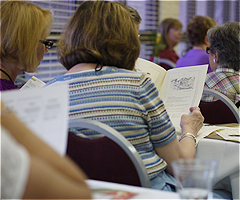 Options and Prices
Attendance is by pre-registration only. We offer different types of registration.
Single Registration
Register under this option if (1) you are coming to this event on your own or (2) you are attending with someone else but require your own room. You will have your own room – not shared.
Sold Out!
Double Registration
If you will be attending and sharing a room with a friend, spouse or other family member, this is the option for you. Both of you will receive assistance from Ancestor Seekers professional researchers.
Sold Out!
Triple Registration
Register under this option if you will be attending and sharing a room with two friends or family members. Two Queen Size beds will be provided with the option of an additional rollaway bed if required. All three will receive assistance from Ancestor Seekers professional researchers if required.
Sold Out!
Bring a Companion
This is a great option if you wish to attend and share a room with a friend, spouse or other family member who (1) will not be requiring research assistance from Ancestor Seekers professionals or (2) wish to spend their time in Salt Lake City doing other things. Your companion is welcome to participate with you in research at the Library and in all other activities, including the Opening Banquet.
Sold Out!
Without the Hotel
This is available only to those who (1) Live in Utah (2) Will be staying with family or friends in Utah or (3) Will be staying at an RV campground.
It provides all of the benefits of our package except for hotel accommodations and shuttle.
Sold Out!
---
Payment Methods
We are able to accept payment by the following methods:
PayPal
Credit or Debit Card
What Do I Get For My Money
Included
Six nights accommodations at the Salt Lake Plaza Hotel at Temple Square (Monday night through Saturday night, checking out Sunday morning). The Plaza provides a free shuttle between the airport and the hotel
Help and advice from professional genealogists provided at regular intervals at the Family History Library from 9.00am to 12 noon and 2.00pm to 5.00pm Tuesday - Saturday. (Not available Thursday morning)
Evening Group Activities
Not Included
Air fare (or other travel costs)
Meals
All other personal expenses
Cancellation
Before 30 March 2018 - In the event of cancellation up to and including 30 March 2018 we will either:
Refund 90% of the registration fee
Provide a full credit for attendance at a future Research Week without penalty
After 30 March 2018 - we will either:
Refund 80% of the registration fee (If cancellation is received within three days of the event start date a late cancellation fee of $100 will be deducted from the refund).
Provide a full credit for attendance at a future Research Week without penalty
No Shows will forfeit all fees paid.
No refunds will be made in the event of early departure.
Testimonials
Read some of the comments made by our previous guests or come and talk to us on the Ancestor Seekers Facebook Page.
Your team are great...Nothing is too much trouble. Their knowledge is awesome and the resources unbelievable. Thank you for all your hard work and attention to our research week. I really did enjoy my time with you and the results were more than I expected. I will certainly be coming back next year
I just wanted to let you know how pleased I was with this trip. I accomplished my most important goal...finding out who my great-great grandfather on my father's side was. What a gift...I also was able to confirm other family members information and add to what I had. The trip was well worth it and the help from your team of consultants helped me break through. I also learned multiple ways to research and sites to try with which I was not familiar and will be able to use that information once I get home. Thanks...would recommend this program to anyone
I thoroughly enjoyed this trip. It was not only a success for me but I am excited to visit my father's cousin soon to share with him my results. He has been looking for a maternal great-great grandfather since the 1960s. Thanks to Ancestor Seekers I found her.
I want to thank you for all the work that goes into making these trips so fabulous, - especially the "fresh" roses. This was my first trip to FHL and what a great experience. The researchers were just marvelous - so caring and eager to help, not to mention their knowledge of research and the library. Above and beyond my expectations. I've started saving for another trip with you in the near future - this time I hope to bring my husband.
Just wanted to let you know it was one of the most beneficial weeks I've ever experienced. Thank you for organizing and facilitating it. The researchers were knowledgeable and extremely helpful. I couldn't have accomplished half the work in that time frame without their help.
Thank you again for a wonderful trip. I have done group trips before, so my comparison is to them.

Your group trip was more personal, less formal - which was more appealing - it was less expensive but had just as many side excursions. I would have no problems recommending you for this program.
We had a wonderful time in SLC. I think about our time there EVERY day! Your event is so "user friendly" and focused on the participants. We certainly hope to attend another week with Ancestor Seekers!

All we had to do was get to Salt Lake City!
a grand time was had by all....plus, of course, enlightening research guidance and findings provided by your wonderful staff. Everyone stepped up eagerly with their respective specialties. I applaud them all.
This trip was a great adventure for me in many aspects. The location and group activities were first class and just right after a day in the library. Since returning home I've been able to partly solve one of my "brick walls" stemming from the research assistance I received.. Kudos to all of you.
As we did last year, we felt we accomplished quite a bit in our research efforts and anticipate many months of sorting out the new information and adding more leaves on the family branches. Thanks to you and all the team members who truly went the second mile in helping us.
I thought the trip was fantastic. It was fun to research with other people and I did activities that were really fun that I was unaware of. You guys have the perfect introduction to Salt Lake research -- designed to be fun and productive. Thank you for a fabulous trip.
I'm so happy to be able to share some of the experiences I have had during this wonderful week with Ancestor Seekers.

First of all, I have a son that lives in Provo so I have the draw of grandchildren that brings me to Utah often. I have come to the Family History Library, both in Salt Lake and at BYU, to research a particular line of my husband's family many, many times. I really have never been able to find anything on my own. Our first day of research (mine with Karen) was Tuesday morning. I sat down with Karen right away in the morning. I was immediately impressed with her knowledge, her wonderful attitude and her desire for my success. She guided me in the right directions, explained why we were going in that direction, and then frequently checked on my progress.

In short, every place she directed me to was a success. I found information (important information) literally for every source she sent me to and have presently added approximately fifty new names on a line that I had absolutely no information on - and I'm not through yet!!!!!

I would tell anyone who would be interested how valuable this week has been to me. I feel that my experience with Ancestor Seekers has been a complete success.
This has been a great experience for me and would be well worth it for anyone involved in family research. Regardless of skill level, everyone should visit the Family History Library. I determined I've been pursuing the wrong 3rd great-grandparents for over a year. I had originally relied on two well regarded historian's transcriptions of my 2nd great grandmother's baptismal records. I determined these transcriptions were both in error after examining microfilm copies of original church records in the Family History Library. This is actually a great success for me as it ends a "wild goose chase" which never seemed quite right - now I can invest my time researching other ancestral lines.

I'm grateful to you and your excellent staff for a first class introduction to the library.
This is my fourth trip with your group and quite frankly, I believe I have accomplished more this way than had I been on my own. With my past trips I have made major breakthroughs - discovered new family lines, etc. This visit my discoveries have been more modest but still very important to my research. The genealogists assigned to the British floor have, as usual, been outstanding. Their expertise and knowledge of the library' collections and records is invaluable - exceedingly time saving. On my own, it would take me twice as long. Also their researching experience allows them ways to suggest a different approach to a particular problem. In addition to the research assistance in the library, I so enjoyed this trip for all the people associated with Ancestor Seekers. They are friendly, approachable and truly interested in how I am doing. I have enjoyed all the offered activities during my various visits but I must say the play this year was not one to be missed.
Hooray! I came with two big goals - find my Scots in Canada and my Irish in Illinois. Both were accomplished! I could not have done it without the friendly, patient, cheerful Ancestor Seekers guides. They are terrific and helpful to those of us who are new to genealogy and also to those of us who have done it for awhile but are a bit daunted by then new technology!